develop documents
compliant with your corporate rules
How to develop PowerPoint presentations compliant to your business' corporate rules?
With smartbox PowerPoint add-in you can do much to help your users to comply with CI guidelines.
smartbox PowerPoint add-in will help you to improve your corporate presentations with unique and simple to use helper tools. Embedded in Microsoft Office PowerPoint this software extension incorporates all your corporate layouts and templates (smart templates), gives immediate access to your predefined corporate color schemes (smart colors) and offers a collection of advanced design tools (smart tools) matching professional's presentation needs. By simply choosing the applicable template type, suitable layout or wanted functionality you can now sit back and focus on content only. On a license basis, smartbox is the perfect combination of the benefits of additional software and custom-made solution.
Microsoft Office
2007-2016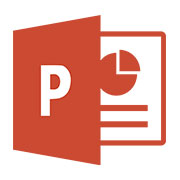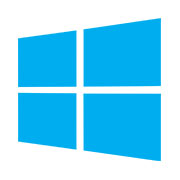 All current Microsoft Windows versions are supported
Overview smartbox PowerPoint add-in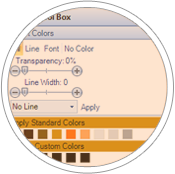 smart colors
smart PowerPoint color scheme provides you with all colors you need to work with. It devides your color scheme in different sections: standard, accent, additional colors and custom shades for fills of objects and shapes, their outline and text color.
By using the magic color picker you can choose six additional colors freely from any item on your computer screen, e.g., websites, program interfaces, etc.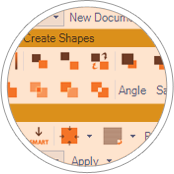 smart tools
smart PowerPoint tools provides a working surface for many useful manipulation functions on one spot. It supplies you with the most important functionalities to manipulate PowerPoint objects, shapes, and text.
It will help you with innovative tricks to create or fix your PowerPoint documents within no time.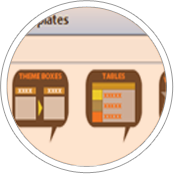 smart templates
smart PowerPoint templates is a collection of all your important design templates sorted in theme related categories. Each category has customized CI display icons as well as a drop down to access.
It provides you with your chosen PowerPoint templates, important slides, box variations, different graphs, and many things more.
smart templates also includes a corporate back pack, which is a library for all kinds of references, such as pictures, logos or web links.
smartbox PowerPoint add-in benefits at a glance

BUSINESS CORPORATE IDENTITY
Integrated drawing grid and helper lines
Embedded CI color scheme

POWERPOINT MASTER TEMPLATe
Multi master support
Multi-language support
Compatible with Microsoft Office 2007-2016

TEMPLATE Automation
Automatic adjustment of PowerPoint shape angles
Automatic agenda generation
Useful PPT shape and object manipulation tools

IMAGES & REFERENCE ARCHIVE
Images & reference archive
High resolution PowerPoint slide or shape export

Shape and Slide Library
Pre-defined PowerPoint charts, graphs and shapes
Easy accessible slide library with your coporate slides

GLOSSARY & ABBREVIATION HAND BOOK
Guidelines around your office documents
Style guide including rules and regulations